The Perils of Penelope Pitstop Episode Guide -Hanna-Barbera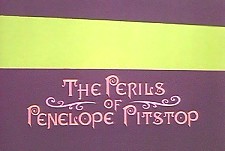 Penelope Pitstop was, once again, involved in a road race aboard her Compact Pussycat.

The twist to the plot was that Penelope was an heiress, whose vast fortune would go to her lawyer if anything ever happened to her (presumably, the lady had no next of kin). Her lawyer, Sylvester Sneekly, decided to follow his lawyerly instincts by spending every episode trying to do away with Penelope so that the fortune would be his.
The Perils of Penelope Pitstop TV Episode Guide :
1
1
1
1
1
1
1
1
1
1
1
1
1
1
1
1
1